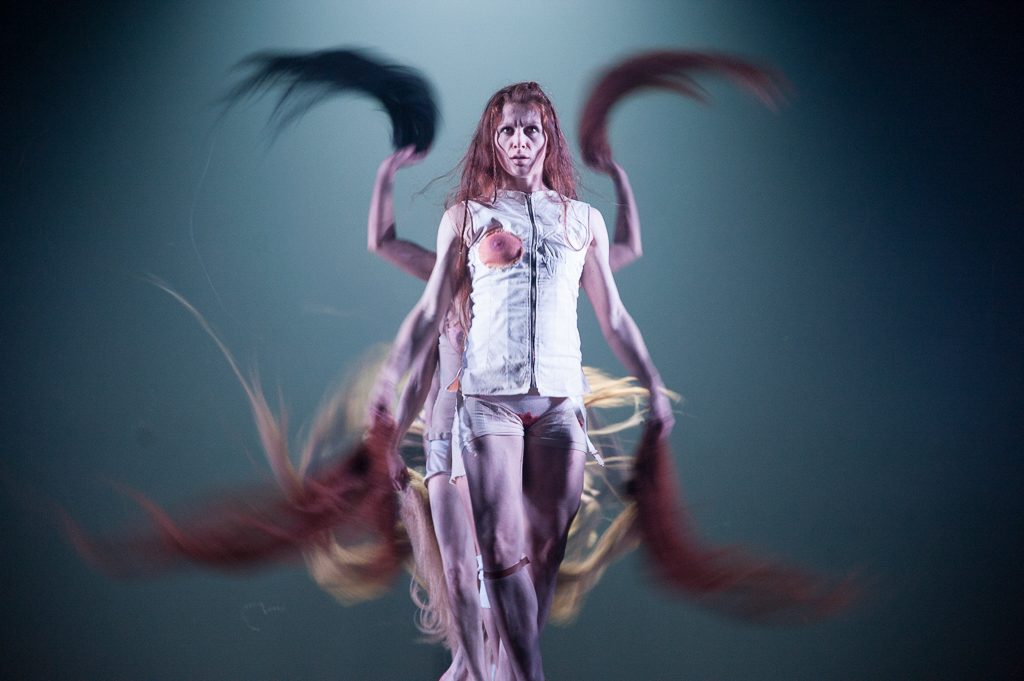 Costume and prosthetic makeup design for theater piece Njála
The  under the direction of Thorleif Arnar Arnarsson and Ernu Ómarsdóttir, dancer and dancer, pitch everything and utilize the unlimited magic of the theater to cope with this spectacular story in an exhibition that is both a curious, provocative and colorful theater party. Battles, love, revenge and power but above all Njáll like you have never seen him before! The show stopped for a full house and the Njála meat soup which theatergoers gave the opportunity to excel in for a show was thoroughly opposed along with entertaining lectures by the leading Nála experts in the country.
The grand exhibition Njála was the true winner of the 2016 Gríman Awards and won ten awards. No show in the history of the Gríman Awards has received so many Grímur. Thorleifur Örn Arnarsson has earned a good reputation as a productive director in Iceland and abroad. Mikael Torfason is a journalist and writer and first attracted attention with the novel False bird which came out in 1997, since then he has published four novels and the play Harmsaga.
Erna Ómarsdóttir is one of Iceland's most respected dancers and choreographers, and her works have been exhibited at various dance and art festivals around the world.
A collaboration between the City Theater and the Icelandic Dance Company
Authors: Erna Ómarsdóttir, Mikael Torfason and Thorleifur Örn Arnarsson
Directed by: Thorleifur Örn Arnarsson
Choreographer: Erna Ómarsdóttir
Sets: Ilmur Stefánsdóttir
Costumes: Sunneva Ása Weisshappel
Description: Björn Bergsteinn Guðmundsson
Music Director: Arni Heiðar Karlsson
Music: Arni Heiðar Karlsson and Valdimar Jóhannsson
Audio: Valdimar Jóhannsson and Baldvin Þór Magnússon
Sound: Baldvin Þór Magnússon
Cast: Margrét Benediktsdóttir
Piano and keyboard games: Árni Heiðar Karlsson
Special Artifact: Elín S. Gísladóttir
Rap lyrics: Salka Valsdóttir and Þuríður Blær Jóhannsdóttir
Assisting Dramaturgy: Uwe Gössel
Assistant Director: Gunnur M. Schlüter
Assistant dance author: Valgerður Rúnarsdóttir
Cast: Aðalheiður Halldórsdóttir, Björn Stefánsson, Brynhildur Guðjónsdóttir, Hilmar Guðjónsson, Hjördís Lilja Örnólfsdóttir, Hjörtur Jóhann Jónsson, Jóhann Sigurðarson, Lovísa Ósk Gunnarsdóttir, Sigrún Edda Björnsdóttir, Sigrún Edda Björnsdóttir