Sunneva Ása
Weisshappel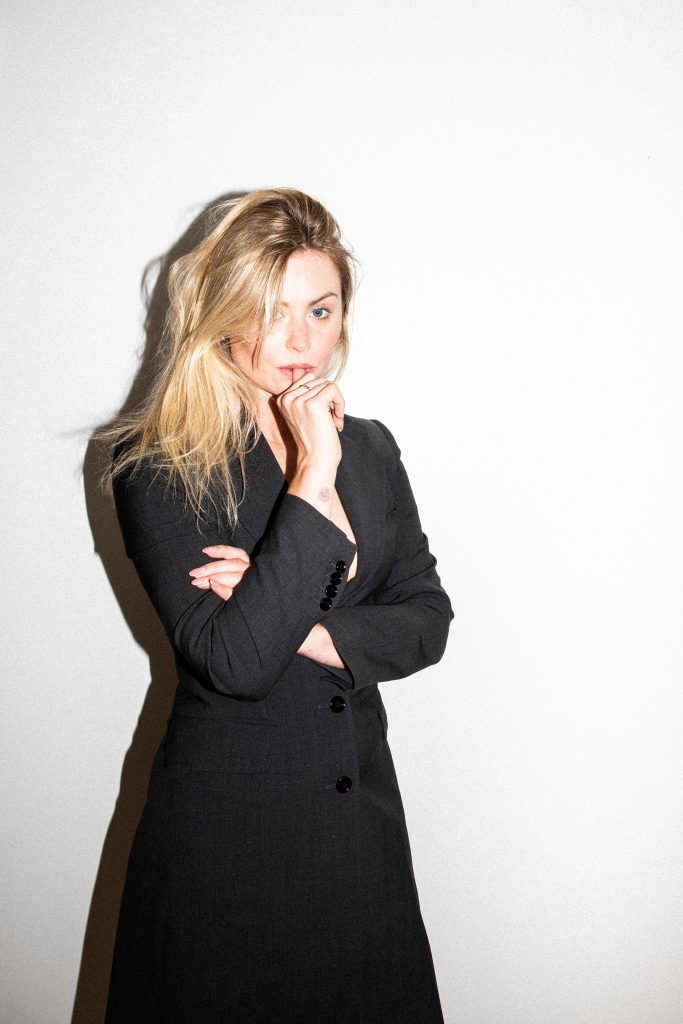 BIO
Sunneva Ása Weisshappel graduated with a Bachelor of Arts degree in Fine Arts from the Iceland University of the Arts, in the spring of 2013. She currently lives and works in London while completing the MFA in Fine Arts at the Goldsmith University in London.
She works in a variety of mediums; painting, installation, performance, and video art. Along with fine art, she has worked in theatre and film as a production designer, set, and costume designer.
Weisshappel's artworks have been exhibited, both nationally and internationally. She has completed art residencies and has been active in the visual art world since her graduation.
She challenges the self on experimental platforms to explore and mirror the present, space, time, and human emotions. Painting and performance are Sunneva's primary mediums. within her artistic expression, moreover, she has experimented by channeling it through many different platforms such as a canvas that is sewn together and each layer treated differently. Together, the layers form a work that is multifaceted, raw, and time-related.
"My subjects in the painting are the subject of living moments and the external and internal state of the human being. I work with the fusion of mind and body and use life as a research platform. For me, painting is a two-dimensional state of mind that I explore by creating resistance, tension, unity, and/or chaos with the working methods I have adopted. My paintings are like the human being who is complex, beautiful, ugly, multifaceted, full of contrasts, mistakes, feelings, and contradictions."
In 2013, she founded and managed Algera Studio; a workshop, art gallery, and residency in Reykjavík. The studio was one of the main research bases for young artists in Iceland and ran for four years.
She has directed and worked on several music videos which have been nominated for awards both in Iceland and Europe.
Weisshappel's designed costumes and prosthetic makeup for Njála, which ran at the Reykjavik City Theatre. In 2015 she was awarded the Gríman awards for the best costume design for her work in that production. She worked in theatre for a few years, experimenting with the border between visual art and the world of theatre through costumes, video art, performance, installations, and production/stage design.
In her career as a production designer, she has worked on projects produced by Netflix and RVK studios. Credits include Netflix's psychological sci-fi series KATLA and Iceland's highest-rated TV show Trapped.  
CV
Education
2021-           Goldsmith, University of London, England, MFA. Fine Art
2009-2013  Iceland University of the Arts, B.A. Fine Art
2009-2010  Klassíski Listdansskólinn, Reykjavík, Iceland, Contemporary dance
2006-2008  Fjölbrautarskólinn í Breiðholti, Reykjavík, Iceland, Visual Art
1997-2006   Listdansskóli Íslands, Reykjavík, Iceland, Contemporary and classical ballet
Solo Exhibitions (selected)
2022   New Work, Robilant+Voena, London, United Kingdom
2021   Undirlög, Þula, Hjartatorg, Reykjavík, Iceland
2018   Metamorphosis, Gallerí Port, Reykjavík, Iceland
2018   Sugar Wounds No.04, Ármúli 7, Reykjavik, Iceland 
2012   Ylhýra, Iceland University of the Arts Gallery, Reykjavík, Iceland
Group Exhibitions (selected)
2021    Vol.1, Þula, Hjartatorg, Reykjavík, Iceland
2020   Tíðarandi, Listasafn Árnesinga, Hveragerði, Iceland
2018   Sugar Wounds No.01, Ármúli 7, Reykjavik, Iceland
2018   Raunir, B Plan Art Festival, Borgarnes, Iceland
2018   Human Centipede, Mammút homecoming concert, Gamla Bíó, Reykjavík,   Iceland
2015   Soundscapes & Landscapes – Terraforming experiment 1, performer, Mengi, Reykjavík, Iceland
2015   Hörund, Kynleikar, Ekkisens, Reykjavík, Iceland
2015   Dauðaherbergið, Lunga Art Festival, Seyðisfjörður, Iceland 
2015   Algera Fiesta Flow, Algera Studio, Reykjavík, Iceland
2015   Flaggskip, Hávaði, Ekkisens, Reykjavík, Iceland
2015   Plato's Parable of Light 3D, performer, Sequences Art Festival VII, Reykjavík, Iceland
2015   Dauðaherbergið, off-venue Sequences Art Festival VII, Algera Studio,
Reykjavík, Iceland
2015   Mara, Listasafn SÍM, Reykjavík, Iceland
2014   Bæjarleyfi, Ekkisens, Reykjavík, Iceland
2014   Hrekkjavaka, Algera Studio, Reykjavík, Iceland
2014   Natura Mater, Umbreyting Einars, Listasafn Einars Jónssonar, Reykjavík, Iceland
2013   Hávaði, Iceland University of the Arts gallery, Reykjavík, Iceland
2013   Welcome: Play Me and Do You Want To Ride, Iceland University of the Arts graduation exhibition BA, Reykjavik Art Museum, Iceland
2013   Stabi Project, Ateliers de Bitche, Nantes, France
2012   Snertu Mig, Iceland University of the Arts gallery, Reykjavík, Iceland
2011   Homies Where My Heart Is, Laufásvegur basement, Reykjavík, Iceland
2011   Welcome To The Greenhouse, Sequences Art Festival, Reykjavík, Iceland
2010   Me To The Export Of The It, Lunga Art Festival, Seyðisfjörður, Iceland
2010   Do Not Cover, Æringur Art Festival, Stöðvafjörður, Iceland
Cinema work
2020- 2021  Trapped III, production designer, Rvk Studios & Netflix, Iceland
2019-2020   Katla, production designer, Rvk Studios & Netflix, Iceland
2018  The Hero's Journey to the Third Pole, artistic consultant, Elsku Rut,
Ground Control Productions & Ursus Parvus, Iceland 
2017  Mules, actress, Rvk Studios, Iceland
2009  Baby Bird, actress, directed by Katrín Ólafsdóttir, Iceland
Theater work
2019   Zoo, Future X, creator and director, Sydhavn Theater, Copenhagen, Denmark
2018   Romeo and Juliet (William Shakespeare and Prokofiev), costume designer, Ballet des Staatstheater am Gärtnerplatz, Munich, Germany
2018   Die verlorene Oper, Ruhrepos (Kurt Weill and Bertolt Brecht), costume designer, Staatstheater    Hannover, Germany
2017   Guð Blessi Íslands, costume designer, Reykjavík City Theater, Reykjavík, Iceland
2017   Siegfried, The Ring of the Nibelung (Wagner), costume, choreography and video designer, Staatsoper Karlsruhe, Germany
2017   Álfahöllin, costume designer, National Theater of Iceland, Reykjavík, Iceland
2017   Hamlet (William Shakespeare), costume and art design, Staatstheater Hannover, Germany
2016   Óþello (William Shakespeare), costume designer, Vesturport, National Theater of Iceland, Reykjavík, Iceland
2016   Othello (William Shakespeare), costume design and choreography, Staatsschauspiel, Dresden, Germany
2016   Enemy of the Duck (Enemy of the People + The Wild Duck by Ibsen), costume design and choreography Norwegian National Theatre, Oslo, Norway
2016   Mutter Courage and her Children (Bertolt Brecht), costume and video design,Hessian State Theatre of Wiesbaden, Germany
2015   Njála, costume designer, Reykjavík City Theater, Iceland
Video art and music videos (selected)
2020   Self-Painting, visual art performance video, 10.08 minutes
2018   What's your Secret,  the music video for Mammút, 4:23 minutes
2018   Salt, music video for Mammút, 5:47 minutes
2018   Ró, video art performance as a music video for Mammút, 2:33 minutes
2016   Goldigaz, music video for We Are Z, 4:09 minutes
2016   Crazy Little You, music video for Cryptochrome, 3:49 minutes
2015   Glæður, music video for Mammút, 4:16 minutes
2015   Óráð, music video for Amabadama, 4:17 minutes
2015   Blood Burst, a music video for Mammút, 5:03 minutes
2015   Í Næsta Lífi, music video for XXX Rottweiler hundar, 3:26 minutes
2014   Stimulation, video artwork, 6:33 minutes
2014   The Rose, video artwork, 9:47 minutes
2014   Síðasti dansinn, music video for Camber Orchestra, Kúbus, 2:47 minutes
2014   The Backbone, music video for Rökkurró, 4:30 minutes
2014   Þau Svæfa, music video for Mammút, 3:07 minutes
2014   Lemon Stars, a music video for East of my Youth, 4:53 minutes
2013   Do You Want To Ride, video art/experimental movie, 47:02 minutes
2011   Nine, experimental video artwork, 4 hours and 5 minutes
2011   Flaggskip, video artwork, 10:09 minutes
2011   Hress Með Nananana, video artwork series of 2-4 minutes long episodes
2009  Golden Dick Dance, video art performance, 4 minutes
Work experience (selected)
2017    Artist in a residency program, Disco Art Festival, Oqaatsut, Greenland
2016   Artist in residency program at Le Wonder, Paris, France
2014- 2017 Manager of Algera Studio, residency programs and exhibitions, Iceland
2014   Performer in the music video Crossfade, directed by Tommy Kha, for GusGus, Iceland
2009  Performer in the film Democracy is a Mishmash of dead animals in a bun, by Steinunn Gunnlaugsdóttir, Iceland 
Awards
2015   Costume designer of the year at Gríman, the Icelandic Performing Arts Awards, for Njála, Reykjavík City Theater, Iceland
2013   Album cover of the year at the Icelandic Music Awards, from the album    Komdu til mín Svarta Systir by Mammút. The cover contained a photographed performance by the artist, Reykjavík, Iceland
Nominations
2019   Dance show of the year at the German Faust awards, Romeo and Juliet, costume design, Ballet des Staatstheater am Gärtnerplatz, Munich, Germany
2017   Costume designer of the year at Gríman, the Icelandic Performing Arts    Awards, God Bless Iceland, Reykjavík City Theater, Iceland
2016   Theater performance of the year at Heddaprisen, The Norwegian Theater   Awards, Enemy of the Duck, costume design and choreography, Norwegian   National Theatre, Oslo, Norway
2014   Music video of the year at the Nordic Music Awards, Þau Svæfa by Mammút, director and creator, Oslo, Norway
2014   Music video of the year at the Icelandic Music Awards and the Northern Wave Film Festival for The Backbone by Rökkurró, director and creator, Iceland